Alva Erskine Belmont
, née
Smith
(
January 17
,
1853
-
January 26
,
1933
) was a multi-millionaire
American
socialite and a major funder of the
women's suffrage
movement.
Born in
Mobile
,
Alabama
, the daughter of a cotton trader, the
American Civil War
ruined her family, who decamped, like many other high-society
Southerners
, to
Paris
. Her family returned to
America
, this time to
New York
, after
France
's defeat by
Prussia
in 1871. Belmont's mother was forced to open a boardinghouse on West 23rd Street. Belmont resolved to try to marry a rich man, joining New York's belle underground of girls from good Southern families ruined by the Civil War who married New York bankers, brokers, and merchants. The technique was for a well-connected female friend to introduce the young woman to a suitable match. Belmont had just such a presenter in
María Consuelo Yznaga del Valle
, a childhood friend from Natchez, with grand Cuban-Spanish relations, and who later became the
Duchess of Manchester
. On
April 20
,
1875
, she married
William Kissam Vanderbilt
, son of one of the richest men in America.
Belmont worked with architect
Richard Morris Hunt
to create a model of a 16th century French chateau at 660 Fifth Avenue. She believed the wealthy had a responsibility to build monuments representing knowledge and culture. In 1891, she worked again with Hunt to design
Marble House
in
Newport
,
Rhode Island
, a Society summer retreat. When Caroline Astor, queen of "the 400" elite of New York Society snubbed her, she held a magnificent masquerade ball that cost three million dollars. Unhappy over being unable to get a box at the opera, she pressed for a new
Metropolitan Opera House
in New York that could accommodate her family.
She and William K. had three children:
Consuelo
, William K. II, and Harold Stirling. She determined to find an aristocrat husband for Consuelo, and in 1895 maneuvered her into marrying Charles Spencer-Churchill, the 9th Duke of Marlborough. Belmont then shocked society by divorcing her husband and receiving a large financial settlement. At that time, divorce was unheard-of among the elite. In 1896 she then married
Oliver Hazard Perry Belmont
, another wealthy man five years her junior. She immediately began extensive renovations to his sixty-room Newport mansion,
Belcourt
, and had another mansion, Brookholt, built in Hampstead,
Long Island
. Her husband died suddenly in 1908, upon which she felt "called by Christ" to a new cause.
Drawn to the women's suffrage movement by
Anna Shaw
, Belmont donated large sums to the movement, both in the
United Kingdom
and United States. In 1909, she founded
Political Equality League
to get votes for suffrage-supporting New York State politicians, and wrote articles for newspapers. Raised in the South, she believed blacks were inferior, yet she befriended
Mary Church Terrell
and supported both black women and immigrant activists. During the women's union strikes of the period, she sat in court rooms and paid the bail charges. At first she supported the suffrage organization
NAWSA
, but left the organization because she disagreed with its more conservative policies. With
Alice Paul
she formed the
National Woman's Party
, and became its key theoritician. Her mansions provided meeting places and housing for suffrage workers, and her finances supported the many activities around the country, which included picketing of the White House. She continued to write on behalf of an Equal Rights Amendment, and was president of the NWP in the early 1920s when it sought that law. Overall, Belmont's irascible and commanding temperament served her political cause well.
[1]
,
[2]
In the mid-1920s she moved to France in order to be near her daughter and work for international women's suffrage. Her funeral in New York included women in suffrage costumes and a political theme. There she died on
January 26
,
1933
. She is interred in the
Woodlawn Cemetery
in
The Bronx
,
New York
.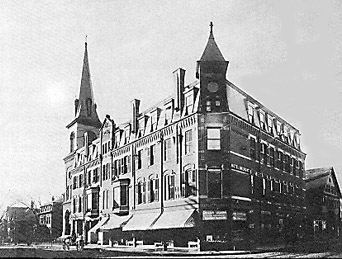 Social titles
1853-1875
:
Miss
Alva Erskine Smith
1875-1895
:
Mrs.
William Kissam Vanderbilt
1895-1896
:
Mrs.
Alva Vanderbilt
1896-1933
:
Mrs.
Oliver Hazard Perry Belmont