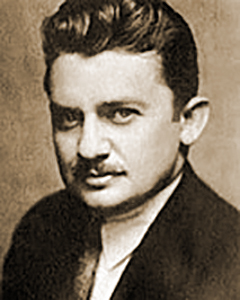 Jean Hersholt
(
July 12
,
1886
–
June 2
,
1956
) was a
Academy Award
-nominated and
Golden Globe Award
-winning
Danish
actor who lived in the United States.
Born in
Copenhagen
,
Denmark
to a stage family, Hersholt went on to become a well-known actor in the
United States
. According to the
Internet Movie Database
, he appeared in 140 films and directed four. His first two films were made in Germany in 1906. He emigrated to the US in 1913, and the rest of his movies were made in America. Of his total credits, 75 were silent films and 65 were sound films. He is the uncle of actor
Leslie Nielsen
.
Hersholt is best known for his portrayal of Marcus Schouler in
Erich von Stroheim
's
1924 film
Greed
and for playing
Shirley Temple
's beloved grandfather in the 1937 film version of the 1880 children's book,
Heidi
, written by Swiss author
Johanna Spyri
. During his long career in the movies, his roles ran the gamut from early silent villains to secondary parts in which his mild Danish accent and pleasant voice suited him to depict a succession of benevolent fathers, doctors, professors, and European noblemen. During the late 1930s and early 1940s he created, starred in a radio series, co-wrote a novel, and made a series of six family films in which he portrayed Dr. Christian, a small-town physician whose good humour, innate common sense, and scientific training helped to drive off a series of villainous types who tried to interfere with the peaceful lifestyle of River's End. In 1956, his Dr. Christian character made the transition to television, with
Macdonald Carey
in the title role. Hersholt's own last role was in the 1955 movie
Run for Cover
.
Hersholt was a
Hans Christian Andersen
enthusiast who assembled a large collection of books related to that writer (now in the
Library of Congress
). His doctor Christian character was an homage to the author's name and he translated over 160 of Andersen's fairy tales into
English
. These were published in
1949
in six volumes as "
The Complete Andersen
". His translations of Andersen's
Tales
are considered the best English versions in existence. Hersholt was knighted by
King Christian X of Denmark
in
1948
partly due to this endeavor. Hersholt's grave in
Forest Lawn Memorial Park Cemetery
is marked with a statue of Klods Hans, a Hans Christian Andersen character who left Denmark to find his way in the world — much as Hersholt himself did.
In
1939
Hersholt helped to form the
Motion Picture Relief Fund
. This fund helped to support industry employees with medical care when they were down on their luck and was used to create the Motion Picture Country House and Hospital in
Woodland Hills, California
. This led to the creation in
1956
of the Jean Hersholt Humanitarian Award, an honorary Academy Award given to an "individual in the motion picture industry whose humanitarian efforts have brought credit to the industry."
He died in
Hollywood
,
California
and was interred in
Forest Lawn Memorial Park
Cemetery in
Glendale, California
.
Asked how to pronounce his name, he told
The
Literary Digest
"In English,
her'sholt
; in Danish,
hairs'hult
." (Charles Earle Funk,
What's the Name, Please?
, Funk & Wagnalls, 1936.)